Home Decoration: Are Acrylic Mirror Wall Stickers Good?
Views: 299 Author: Site Editor Publish Time: 2021-05-04 Origin: Site Inquire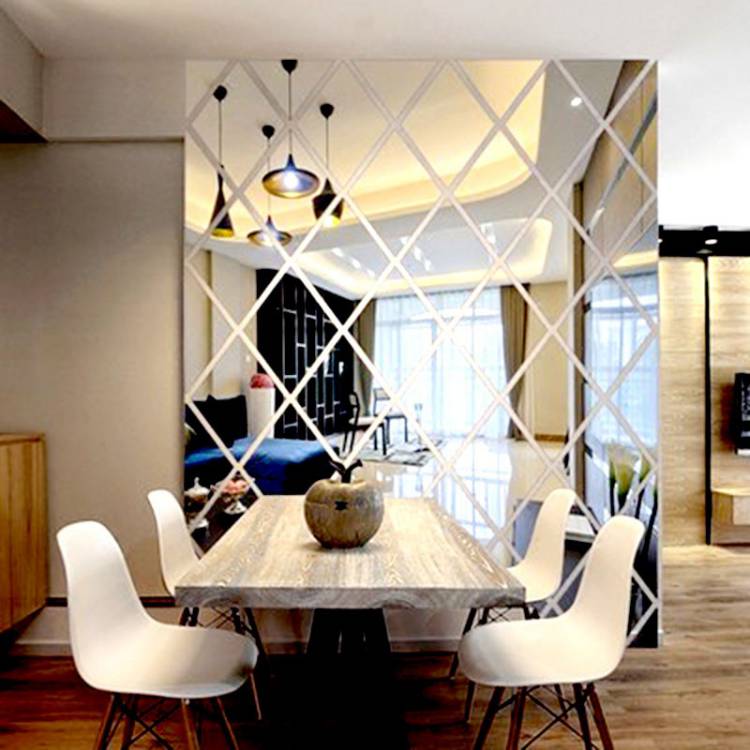 Acrylic Mirror Wall stickers are perfectly created for your DIY activities, adding vitality and color to your room. This mirror wall sticker decal is made of plastic acrylic, It is as clear and reflective as class mirror, but much lighter and not sharp and fragile without any damaging. They stick directly onto walls, tiles or doors, no need for a heavy mirror, and better still, no nails or knocking holes in walls, and no more tools required on setting up.

The acrylic wall decor is non-toxic, non-friable, environmental protection and anti-corrosion. They are perfect home decoration, TV wall decoration, ideal for decorating interior walls or windows of living room, bedroom, or store. No harm to the environment and health.
Specifications
Material: Plastic, acrylic
Color: Silver, gold or more colors mirror
Size: Multiple sizes or custom size
Shape: Hexagon, round circle, heart ect. different or custom shapes
Style: Modern
Application: Smooth and clean surfaces including glass, ceramic tile, plastic, metal, wood and latex paint
How to remove mirror wall decals
The back of acrylic mirror wall decals has glue itself, it can be easy to paste, but the adhesive is also pressure-sensitive, you can't simply take them off without damage to the wall. Especially If they are on pure paper wall and non-woven wallpaper, it is not recommended to remove them, and there is no effective way to do this at present.
1. Remove the acrylic mirror wall stickers from the latex paint wall:
First use a blow dryer to properly heat the sticker (usually heated to about forty degrees) to keep the adhesive soft and make removal easier, then peel up the corner of the sticker with your fingernail, if you find that the acrylic mirror wall stickers are not degummed on the back, you can slowly tear off in one piece. Please note that the temperature cannot be heated too high or heated continuously, it will make it easy to degumming or even peeling off the wall paint. In this way, the acrylic mirror wall stickers can be removed substantially, and even with a small amount of traces, it can be slowly removed with a knife.
2. Remove the acrylic mirror wall stickers from the glass or other surface which are not easy to be damaged:
Besides using the above method to remove the wall sticker, it can be directly peeled off with hands. If there are residual marks, you can try to remove them with alcohol, detergent, gasoline, etc and then rub the surface clean with a cloth. Repeat as needed until the adhesive is completely removed. Pleast note that test cleaners on a hidden area of the surface first to ensure they don't stain or damage the wall surface.