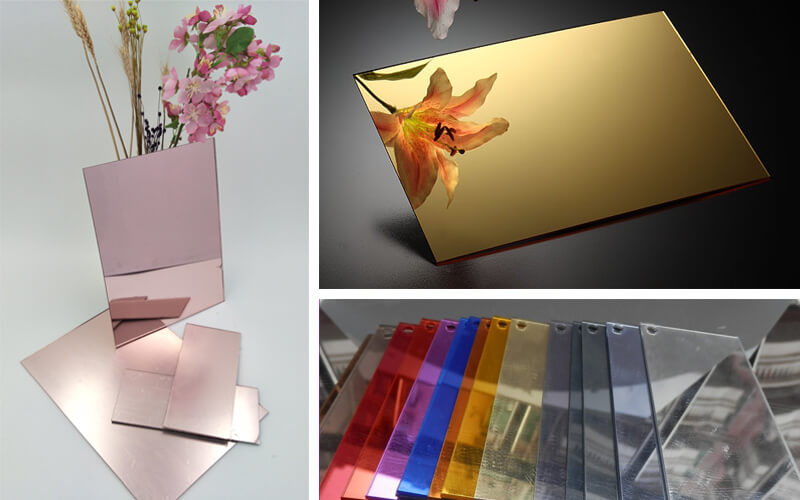 Mirror sheets and lens are indispensable necessities in daily life, especially the plastic safety mirror. Common types of plastic mirrors include PMMA acrylic mirror, PC mirror, PVC mirror and PS mirror. Their manufacturing methods include vacuum splashing aluminum, coating laminating and water silver plating mirror, etc. Safety silver mirrors are normally used in shoes mirror, makeup mirror, sink mirror, toys mirror, dressing mirror, decoration mirror, reflective mirror, road convex mirror, blind mirror, electronic products panel, festival decoration golden mirror, red mirror, blue mirror, green mirror ect.

Acrylic mirror, or plexiglass mirror, is a high quality plastic mirror. Acrylic mirror sheet is a stronger, lighter, more economical and safe alternative to glass mirrors with better impact resistance. This reflective thermoplastic sheet is used to enhance the look and safety of displays, POP, signage, and a variety of fabricated parts. It is ideal for use where glass is too heavy or may easily crack or shatter or anywhere safety is a concern, such as retail, food, advertising, and security applications.

Acrylic mirror sheet from DHUA is available in one-way, two-way mirror and a variety of colors, patterns, and grades.
Specifications of Acrylic Mirror Sheet
| | |
| --- | --- |
| Product Name | Acrylic Mirror Sheets/Mirrored Acrylic Plexiglass Sheet/Plastic Mirror Sheet |
| Material | Virgin PMMA material |
| Color | Amber, gold, rose gold, bronze, blue, dark blue, green, orange, red, silver, yellow and more custom colors |
| | |
| Thickness | 1-6 mm |
Advantages of Acrylic Mirror
(1) Good transparency
Light transmittance of Acrylic mirror is up to 92%.
(2) Good weather resistance
Strong adaptability to the natural environment, and anti-aging performance is good.
(3) Good processing performance
Acrylic mirror can not be die cut, but can be router, saw, or laser cut. Suitable for machining and hot forming,
(4) Excellent comprehensive performance
Acrylic has a wide variety of colors and excellent comprehensive performance, providing designers with a variety of choices. Acrylic can be dyed, the surface can be colored, screen printing or vacuum coating.