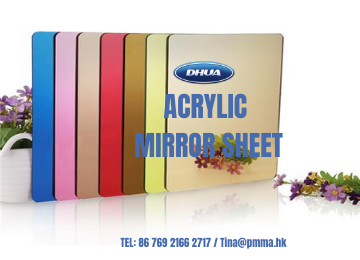 Which Kind of Plastic Mirrors Can Replace Glass Mirrors Without deformation in the case of large areas?
Firstly we need to understand the basic characteristics of these materials:
1. Acrylic mirror (Acrylic, Plexiglass, PMMA, Polymethyl Methacrylate)
Advantage: high transparency, mirror coating can be on the opposite side, good protection effect of reflective coating, impact resistant (17 x stronger than glass mirrors) and shatterproof, light weight, sturdy and flexible
Disadvantage: a little brittle
2. PVC plastic mirror
Advantage: cheap; high hardness; can be cut and bent into shape
Disadvantage: the base material is not transparent, mirror coating can only be in the front, and low finish
3. Polystyrene mirror (PS mirror)
It has low cost price. Its base material is relatively transparent, and it is relatively brittle with less toughness
4. Polycarbonate mirror (PC mirror)
Medium transparency, having advantage of good toughness (250 times stronger than glass, 30 times stronger than acrylic), but having highest price
5. Glass mirror
Advantage: mature coating process, superior reflection quality, low price, most flat surface, most hard material, wear-resistin and anti-scratch
Disadvantage: most brittleness, unsafe after being broken, less impact resistant, heavier weight
To sum up, the perfect substitute, which is not easy to be deformed, lightweight, and not afraid to be broken, is acrylic material. Here are a few reasons to use Acrylic plexiglass mirror as a replacement material to mineral glass:
· Impact resistance – Acrylic has higher impact resistance than glass. In case of any damage, acrylic will not shatter into small pieces but instead, will crack. Acrylic sheets can be used as greenhouse plastic, playhouse windows, shed windows, perspex mirrors
airplane windows etc. as an alternative to glass.
· Light transmittance – Acrylic sheets transmit up to 92% light, while glass can only transmit 80-90% light. As transparent as crystal, acrylic sheets transmit and reflect light better than the finest glass.
· Environment friendly – Acrylic is an environment friendly plastic alternative, with sustainable development. After the production of acrylic sheets, they can be recycled through a scrapping process. In this process, the acrylic sheets are crushed, then heated before being re-melted into a liquid syrup. Once the process is completed, new sheets can be made out of it.
· UV resistance – Using acrylic sheets outdoors exposes the material to potentially high amounts of ultraviolet rays (UV). Acrylic sheets are also available with a UV filter.
· Cost effective – If you are a budget conscious individual, then you'll be happy to know that acrylic sheets are an economical alternative to using glass. Acrylic sheet can be produced at half the cost of glass. These plastic sheets are lighter in weight and can be easily transported, which makes the shipping costs lower as well.
· Easily fabricated and shaped – Acrylic sheets possess good moulding properties. When heated to 100 degrees, it can be easily moulded into a number of shapes including bottles, pictures frames and tubes. As it cools down, acrylic holds to the formed shape.
· Lightweight – Acrylic weighs 50% less than glass which makes it easier to handle. As compared to glass, acrylic sheets are extremely light to work with and can be easily transported from one place to another.
· Glass like transparency – Acrylic possesses properties to maintain its optical clarity and takes a considerable period of time to fade. Due to its durability and optical clarity, most constructors prefer to opt for acrylic sheets to use as panels for windows, greenhouses, skylights and store-front windows.
· Safety and strength – There might be a number of reasons you want a superior strength windows. Either you want it for security purpose or for weather resistance. Acrylic sheets have 17 times stronger than the glass, which means it takes a lot more force to shatterproof acrylic. These sheets have been formulated to provide safety, security and strength at the same time making glass look acrylic great as a replacement
Over the years, the use of acrylic sheeting has surpassed glass in terms of versatility and multiple uses, which makes acrylic glass more economical, durable and practical alternative to glass.