Acrylic mirror, making a stereo wall sticker is super beautiful
Views: 6 Author: Site Editor Publish Time: 2018-12-18 Origin: Site Inquire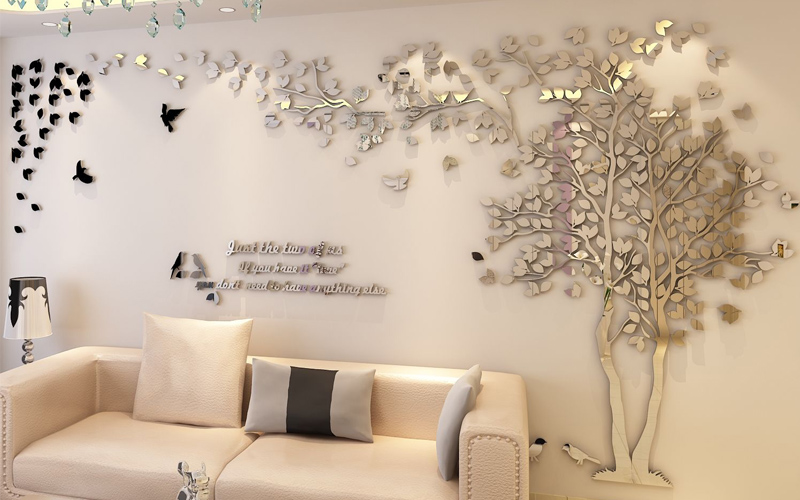 This year, I found a new wall sticker, which is especially good after being attached to the wall! I can't help but introduce it to everyone. This small artifact called the acrylic mirror wall sticker is another superb invention of home decoration. Whether it is the layout of a new house, or the style of an old house, I want to use it for some new energy!
The first thing to say about its material is completely different from the previous wall sticker, which is just a plastic sticker. It is made of acrylic mirror. Acrylic, known as plexiglass, is often used on billboards, etc., so the texture is much stronger. Not only environmentally friendly, durable, but also can be used as a mirror, both beautiful and practical, adding to the sense of space.
Then I will introduce to you how this wall sticker is: it is made by computer engraving, 3D craft, after the wall is a three-dimensional effect, it looks very realistic, although it is a wall sticker, but it is not LOW at all. ! By the way, its way of pasting is very simple, there are specific numbers, as long as you follow the number, carefully put it in place to correct it!
This acrylic mirror wall sticker is very sticky after being applied to the wall. It will not fall off for many years, but when you don't want it, it will not damage the wall. And the daily cleaning is also very convenient, the towel will shine as new! If you are tired of the big white wall at home, use this acrylic mirror wall stickers to arrange it! Crystal acrylic material, attached to the wall is a 3D effect, it is a delicate and smooth crystal texture, long-lasting sticky, no fading, environmentally friendly and easy to clean. Each has a paste template and number, and you can post the perfect effect yourself!