International SIGN & DISPLAY SHOW 2018, BOOTH NO:125, in Tokyo--- Guangdong Donghua Optoelectronics Technology Co.,Ltd
Views: 14 Author: Site Editor Publish Time: 2018-07-28 Origin: Site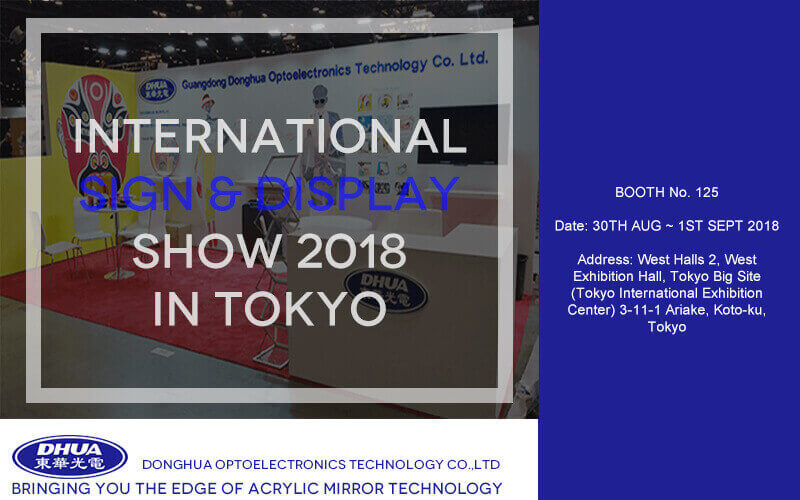 You're Invited to International SIGN & DISPLAY SHOW 2018 (JAPAN), BOOTH NO:125 --- Guangdong Donghua Optoelectronics Technology Co.,Ltd
On behalf of Guangdong Donghua Optoelectronics Technology Co.,Ltd. We kindly welcome you to visit us at International SIGN & DISPLAY SHOW 2018。
We will be proud to show you our freshly exceptional designed PMMA mirror for 2018.
Guangdong Donghua Optoelectronics Technology Co.,Ltd, short for "Donghua" is a company of 18 years experience specialized in manufacturing acrylic sheets, polystyrene sheets, and various of plastic mirror sheets including acrylic mirror sheets, polystyrene mirror sheets, polycarbonate mirror sheets, PETG mirror sheets, convex mirror.
Donghua has always strived to become the most valuable commercial partner with providing our customer high-quality with speed production time as well as offering top-notch services.
Are you ready to be on the frontier of PMMA mirror?

BOOTH No. 125
Date: 30TH AUG ~ 1ST SEPT 2018
Address: West Halls 2, West Exhibition Hall, Tokyo Big Site (Tokyo International Exhibition Center)
3-11-1 Ariake, Koto-ku, Tokyo
あて先:
東京ビッグサイト(東京国際展示場)西2ホール
╤135-0063,東京都江東区有明3-11-1
Contact Person: Kelly Zhang
Phone: +86-13066182261
Email: Kelly@pmma.hk